Mat Weaving Machine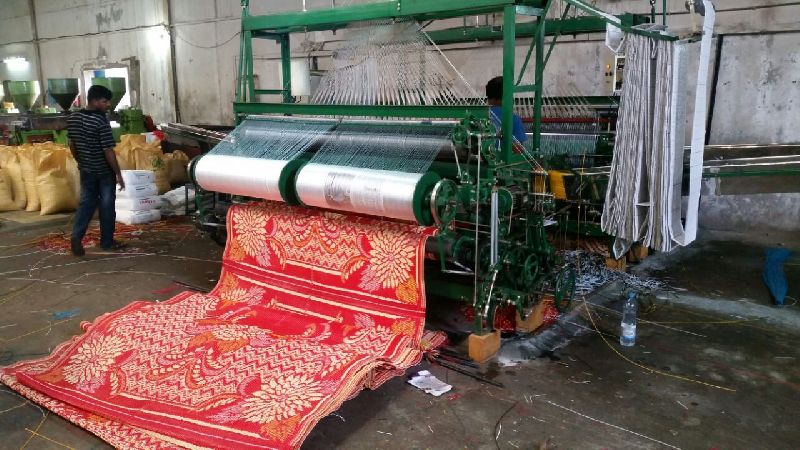 | | |
| --- | --- |
| Business Type | Manufacturer, Exporter, Supplier, Retailer, Wholesaler |
Tejal Engineers is a leading Mat Weaving Machine Manufacturer. The Mat Weaving Machine requires only 0.75 hp electricity and the mat pattern can be easily changed from carpet to chume & vice versa. The Mat Weaving Machine is available in various specifications like PP Mat Weaving Machines, Plastic Mat Making Machine, Beach Mat Machine, Yoga Mat Machine etc.

Technical Features :
The machine is based on jacquard system in which design cards are used and any complicated design can be woven beautifully
Selection of color pipes depends on design cards
Automatic thickness adjusting mechanism for feeding warp thread from beam, hence mat length is adjustable
In the event pp tube is not feed to the machine,the machine stops automatically, thus giving beautiful mat without defects
Upper guide pipe is fitted with bearings, giving free movement for yarn feeding
With some changes on machine, mat pattern can be changed from carpet to chume or vice-versa.
One operator can operate four weaving machines at a time

Specifications :
Produces 80 mats of 4x6 in average in 24 hours
2 extruders can feed to 3 weaving machines
Starting from 36 inch ( 90 cm ) width to maximum of 108 inch ( 270 cm ), width mat weaving machines, as required by customers"

Use of Machines :
Mat Weaving Machines : For producing beautiful woven & colored mats
PP Tube Extruder : For producing beautiful colored polypropylene material tubes Which afterwords are put in weaving machines for getting woven.
High Speed Mixer : For mixing of pp granuals with masterbatch or pigment. It also removes moisture from material if any.
Warping Machine : For putting yarn on bobbin from ready cones.
Cutting & Sealing Machine : For cutting & sealing of mats which are in the form of rolls on weaving machine.
Compressor : For making hollow tubes in extruder
Water Pump : For cooling of tubes from extruder
Weighing Scale : For taking tube & mat weight
Read More...
Machines Required for Mat Manufacturing Plant
Description
Quantity Required
Production/24 Hours/Machine
Installation
(L) * (W) * (H)
Mat Weaving Machine of different sizes as 90cm width 183 cm*length 183 cm*width 183 cm length etc. (For Calculations We Assume First One)
16 Sets
100 Pieces of 90cm Width*183 cm Length
140cm*336cm*253cm
PP Tube Extruder 32 mm Size
12 Sets
100 kg
750cm*60cm*122cm
High Speed Mixer 50 kg Capacity
1 Nos
180cm*76cm*140cm
Warping Machine
1 Nos
750cm*220cm*250c
Cutting & Sealing Machine
1 Nos
150cm*180cm*90cm
Compressor 3 hp Motor
1 Nos
Water Pump 2 hp Capacity
1 Nos
Electronic Weigh Scale
2 Nos
Looking for "
Mat Weaving Machine

" ?
Set(s)